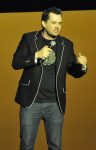 This gallery contains 1 photo.
Progressives celebrated a long overdue win against the influential conservative intellectual Jordan Peterson after Comedy Central's "controversial" comedian Jim Jeffries shut  Peterson down in debate. Vice Media has an accurate, helpful summary of the discussion:
On a June 19 episode of The Jim Jefferies Show, in which he was the focus of the profile, Peterson was asked if he thinks "making people bake a cake for a gay wedding" was a good idea.
…
Read more