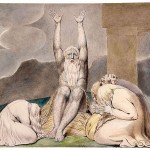 This gallery contains 1 photo.
When God wishes to increase our suffering he sends us theologians.
…
Read more
This gallery contains 5 photos.
Evangelicals have been more than a little vexed about the existence of the "historical Adam". Modern science seems to leave little room for Adam and Eve. Apparently population genetics reveals that modern humans descend from a large population that has never numbered below about 10,000 individuals throughout our evolutionary history.
…
Read more
More Galleries
Comments Off

on The Historical Adam Debate: What Should Christians Believe?